There is only one thing more satisfying than making a hole in one: making a hole in one and walking away with $1,000,000! Present one of your participants with the opportunity to win the ultimate prize by running a shootout contest at your next golf event. Just hold a qualifying contest (closest to the pin, raffle, etc.) to choose who the lucky contestant will be and then gather round to watch the excitement unfold. Grand prizes ranging from $100,000 to $1,000,000 can be covered.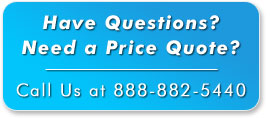 · "A" Rated Prize Protection
- US Hole In One is Backed by the Best!
· Free Signage
- High-Quality, Full Color Signs For Every Contest
· Free Golf Club
- Each Player In Your Event Receives a Free Patriot Golf Wood or Hybrid Golf Club
· Free Worldwide Golf Cash Card
- $10 off Worldwide Golf Shops Card for Every Golfer at Your Event
· Free Shipping
- Signs Shipped by FedEx Directly to Client or Golf Course
· 110% Low-Price Guarantee
- All Legitimate Quotes Will Be Beaten!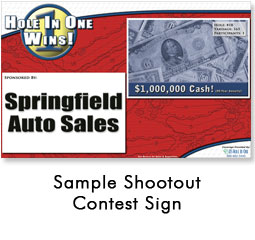 Receive a Price Quote:
Call us at
888-882-5440
or complete our
Online Pricing Form
to receive a prize coverage estimate. For us to supply you a quote, we will need to know the following:
1. # of Participants
2. Yardage of Grand Prize Hole
3. Value of Grand Prize
Complete an Application:
Using the price quote and purchase link provided by US
hole-in-one insurance
, complete the 7-section online application that was emailed to you with your hole-in-one insurance estimate. The purchase link can be found in the first paragraph of the body of the email. Once you open the link, you can view, edit and purchase the policy through the online application.
Receive Your Prize Package:
Upon completing and submitting your online application, a certificate of participation and receipt/invoice will automatically be generated for you to print, email or download. Once the application is submitted, we will begin printing up your event signage. We will then ship you your signage via FedEx and email you a link containing tracking information.
Let the Fun Begin:
On the day of your event, place the signs out on the course. If a golfer successfully makes a hole in one, notify us within 24 hours, and we will promptly award the appropriate prize to the winner.

Payout Timeline
Grand Prize
# of Attempts
Cost
40-Year Annuity
$1,000,000 Cash
1
$200
Single Payout
$250,000 Cash
4
$600
Single Payout
$100,000 Cash
2
$200
Single Payout
$100,000 Cash
1
$100
20-Year Annuity
$1,000,000 Cash
1
$400
40-Year Annuity
$1,000,000 Cash
10
$1,900
Don't Forget About Our 110% Low-Price Guarantee!
All pricing based on three factors: # of attempts, payout timeframe, and grand prize value. All prices include grand prize coverage, signage, and sign stakes. All players must be amateurs according to USGA rules and regulations and playing on 165+ yard hole. Witness requirements may apply. Prices subject to change.