· "A" Rated Prize Protection
- US Hole In One is Backed by the Best!
· Free Signage
- High-Quality, Full Color Signs For Every Contest
· Free Golf Club
- Each Player In Your Event Receives a Free Patriot Golf Wood or Hybrid Golf Club
· Free Worldwide Golf Cash Card
- $10 off Worldwide Golf Shops Card for Every Golfer at Your Event
· Free Shipping
- Signs Shipped by FedEx Directly to Client or Golf Course
· 110% Low-Price Guarantee
- All Legitimate Quotes Will Be Beaten!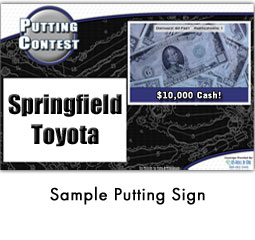 Receive a Price Quote:
Call us at
888-882-5440
or complete our
Online Pricing Form
to receive a prize coverage estimate. For us to supply you a quote, we will need to know the following:
1. # of Finalists
2. Distance of Putt (40ft or 50ft)
3. Value of Grand Prize
Complete an Application:
Using the price quote email you received from US Hole In One, complete the online application found in the first paragraph of your quote email.
Receive Your Prize Package:
Upon completing and submitting your online application, a certificate of participation and receipt/invoice will automatically be generated for you to print, email or download. Once the application is submitted, we will begin printing up your event signage. We will then ship you your signage via FedEx and email you a link containing tracking information.
Let the Fun Begin:
On the day of your event, place the signage out on the putting green. If a golfer successfully sinks the putt, notify us via email within 24 hours, and we will promptly award the appropriate prize to the winner.

Type of Contest
Grand Prize
# of Finalists
Cost
50ft Putt
$5,000 Cash
1
$175
40ft Putt
$5,000 Cash
1
$235
50ft Putt
$10,000 Safari Vacation
1
$350
50ft Putt
$8,000 Home Entertainment Package
1
$280
40ft Putt
$7,000 Caribbean Cruise
2
$728
50ft Putt
$25,000 Cash
1
$925
Don't Forget About Our 110% Low-Price Guarantee!
All pricing based on three factors: # of finalists, distance of putt, and grand prize value. All prices include grand prize coverage, signage, and sign stakes. Above pricing based on all players being of amateur status. Witness requirements may apply. Prices subject to change.