Putting Contest Package Highlights
Putting Contest
Package Highlights
"A" Rated Prize Protection – US Hole In One is Backed by the Best!
Free Interactive Signage – Each sign has an interactive game for any wait time between holes.
Free Signage

– High-Quality, Full Color Signs For Every Contest.

Free Golf Club Offer –

Each Player In Your Event Can Redeem a Free Hybrid or Wood from Patriot Golf.

Free Worldwide Golf Shops Cash Card 

– $10 off Worldwide Golf Shops Card for Every Golfer at Your Event.

Free Shipping

– Signs Shipped by FedEx Directly to Client or Golf Course.

110% Low-Price Guarantee

 – All Legitimate Quotes Will Be Beaten!
Putting Contest Sample Pricing
Don't Forget About Our 110% Low-Price Guarantee!
All pricing based on three factors: # of finalists, distance of putt, and grand prize value. All prices include grand prize coverage, signage, and sign stakes. Above pricing based on all players being of amateur status. Witness requirements may apply. Prices subject to change.
Step-By-Step Instructions
Expand each section to read more
For us to supply you a quote, we will need to know the following:
# of Finalists

Distance of Putt (40ft or 50ft)

Value of Grand Prize
Complete an Application
Using the price quote email you received from US Hole In One, complete the online application found in the first paragraph of your quote email.
Receive Your Prize Package
Upon completing and submitting your online application, a certificate of participation and receipt/invoice will automatically be generated for you to print, email or download.
Once the application is submitted, we will begin printing up your event signage.
We will then ship you your signage via FedEx and email you a link containing tracking information.
Let the Fun Begin
On the day of your event, place the signage out on the putting green. If a golfer successfully sinks the putt, notify us via email within 24 hours, and we will promptly award the prize check to the policy holder.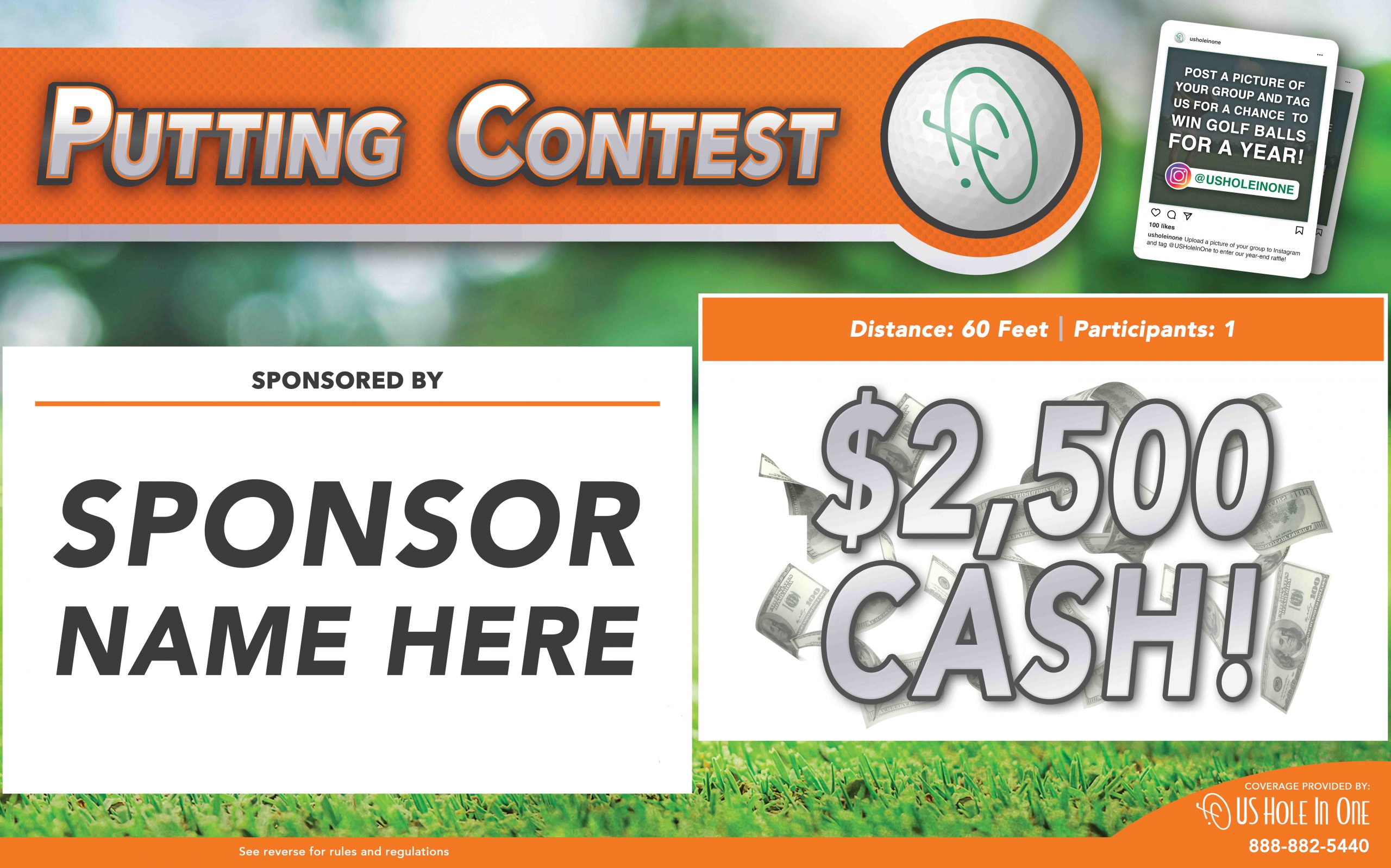 Putting Contest Insurance
The size of the golf ball: 1.68 inches. The size of the hole: 4.25 inches. The distance between you and up to $25,000: only 40 feet! Nothing is more exciting than a putting contest at the end of an outing. That is why 40 and 50 foot putting contests covered by US Hole In One rank as some of the most popular events run at golf tournaments and outings. Raffle off the putt or run an action-packed qualifying event; either way, you are sure to inject some excitement into your next golf extravaganza.
Customer Service Consultants Are Standing By To Assist You!
Questions        .     Price Quotes      .      Prize Recommendations
US Hole In One
3553 West Chester Pike #418
Newtown Square, PA 19073
Copyright © 2023 US Hole In One. All rights reserved.