How Much Do Putting Contest Prize Packages Cost?
How Much Does Putting Contest Coverage Cost?
For us to calculate a price for your putting contest prize package, please be prepared to provide us with three pieces of information:
The Number of Contest Finalists

 who will take the putt for the grand prize

The Distance of the Grand Prize Putt

 (either 40 or 50 feet)

The Value of the Grand Prize

 you wish to award to the contest winner(s)
The illustration below explains what effect each of these variables has on the price of a putting contest prize package.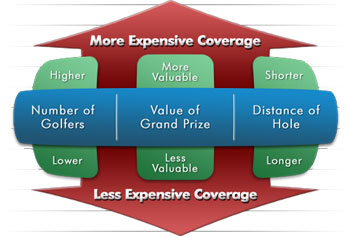 Sample Pricing
As you can see from the table of sample putting contest pricing below, packages can cost anywhere from $175 and up.
Above pricing based on all players being of amateur status. Prices subject to change.
Copyright © 2023 US Hole In One. All rights reserved.