Free Golf Club Certificate Program
How Does The Program Work?
Request a price quote

for hole in one insurance and US Hole In One will provide complimentary certificates for everyone in your event.

On the day of the outing, at the registration table or check-in spot, hand out a certificate to each golfer.
After the event, your golfers can redeem their certificate for a ​FREE​ Wood or Hybrid Golf Club from Patriot Golf.
How Much Does It Cost?
There is no cost associated with receiving the certificates. As an event organizer or sponsor, US Hole In One is offering the certificates to you FREE OF CHARGE. If you would like to receive the complimentary certificates, just give us a call (888-882-5440) or request information on hole in one contest insurance and we will send the certificates to you.
The golf club is offered for FREE as well. Though the golf club typically retails for much more, Patriot Golf has agreed to offer it for FREE to your golfers. However, golfers will be responsible for a flat fee of $38.95 to cover the cost of packaging the club securely for shipment & sending it to the golfer's desired mailing address.
About Patriot Golf
Patriot Golf was formed with the purpose of developing a golf brand that combines innovation and golf's core values as its guiding principles. Patriot Golf promotes "The Pursuit of Golf Happiness" which is to enjoy the game of golf we all love to the fullest. Patriot Golf has brought together an impressive team of golf industry professionals with over 50 years of combined experience to deliver one of the best experiences golf has to offer today. You can be proud to know that every club is assembled right here in the U.S.A. by US Veterans and that our staff of golf professionals are here to serve you every step of the way, even well after your purchase.
Patriot Golf is committed to assisting charity organizations in raising funds and awareness through our "United We Golf" initiative which helps to support various charity golf tournaments and special events. We believe that the game of golf can be used as a great platform to help unite us together and make a powerful impact in our communities and country.
Experience "The Pursuit of Golf Happiness" and make Patriot Golf your new golf brand of choice! We look forward to serving you.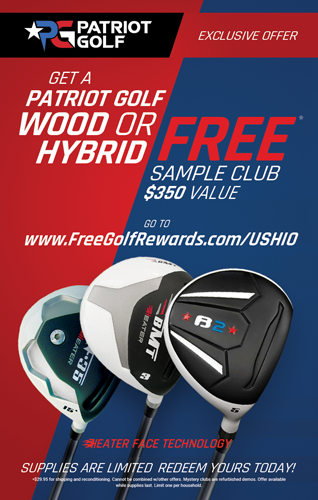 Terms & Conditions
A fee of $38.95 for the wood or hybrid golf club will be applied to each order to cover order processing and shipping & handling costs. Recipients must be 18 years of age or older. Free offers are limited to shipments within the United States and Canada. One golf club per golfer while supplies last. This offer is not intended for use in conjunction with any third party offer. If used in any such manner, Patriot Golf is not responsible for any such third party offer or promise. Not valid with any other Patriot Golf promotion. Products are intended for personal use of the redeeming golfer and for no other purpose.
Copyright © 2023 US Hole In One. All rights reserved.