As the sun sets on another incredible season of golf, we're here to discuss night golf. Night golfing is relatively new to the US, but it's catching on quickly with no signs of going away anytime soon. Since the hours of daylight are getting shorter, but the weather is still superb, it's no wonder people are looking for ways to golf longer. Night golf is a way for courses to bring in more people and extend the season a bit. If you are looking to get started on night golf, here are things we believe you should know.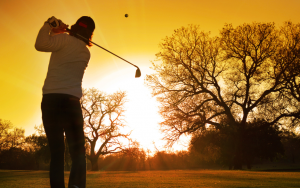 Shedding Some Light on The Course
While more and more courses are joining the trend, it's essential to check that yours is one of them. If yours doesn't, there is bound to be another close by that does. Even if your usual course offers tee times at night, it won't feel like golfing during the day, no matter how bright the lighting on the greens may be. And they typically use floodlights, so that's glaringly bright. Sort of like an optical illusion, the parts of the course in the shadows can throw off your depth perception (or at least, that's the excuse I'm using). Another critical thing to note when picking where to play night golf is that not every hole may be open. As clubs transition their course to be night golf ready, they might start with just a few holes, likely the par 3s.

Illuminating Golf Ball Options
Even with the course having overhead lights, it can be harder to locate your ball. So, while it's certainly not required, some night golfers choose to use glow-in-the-dark golf balls. They also look pretty cool flying through the air. Much like with your standard daytime golfing, finding the right ball can be a fun (and extremely difficult) challenge. Right now there are a lot of brands available to choose from, and styles too. Some glow-in-the-dark golf balls are made from (or coated in) a phosphorescent material. While others have an LED light inside.
Some glow more, some glow less. If you do pick a brand that uses phosphorescent or UV material, I recommend bringing a blacklight. Once the sun sets, the glow gets dimmer and dimmer, but the blacklight will keep your ball in action. That aside, the most common issue with these golf balls is the density. A lot of the glow-in-the-dark balls (particularly the LED ones) seem denser than a typical golf ball, meaning they travel less distance when hit with the same power. If you do find the perfect night golf ball, please let us know!
In the meantime, we hope you enjoy getting to know this darker side of golf.