Free Golf Club Certificate Program
How Does The Program Work?
Request a price quote for hole in one insurance and US Hole In One will provide complimentary certificates for everyone in your event.
On the day of the outing, at the registration table or check-in spot, hand out a certificate to each golfer.
After the event, your golfers can redeem their certificate for their choice of a 19-Degree Hybrid Club and/or 60-Degree Lob Wedge exclusively from Warrior Custom Golf.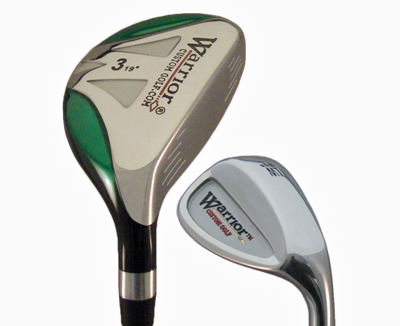 How Much Does It Cost?
There is no cost associated with receiving the certificates. As an event organizer or sponsor, US Hole In One is offering the certificates to you FREE OF CHARGE. If you would like to receive the complimentary certificates, just give us a call (888-882-5440) or request information on hole in one contest insurance and we will send the certificates to you.
The golf clubs are offered for FREE as well. Though each club typically retails for much more, Warrior Custom Golf has agreed to offer them for FREE to your golfers. However, golfers will be responsible for a flat fee of $16.45 for the Wedge, $23.50 for the Hybrid or $36.40 for both clubs to cover the cost of professional custom fitting, packaging the club securely for shipment & sending it to the golfer's desired mailing address.
About Warrior Custom Golf
Warrior Custom Golf, Inc. was established with the goal of developing, manufacturing, and marketing custom golf clubs for golfers worldwide. They're dedicated to the continual development of affordable, state-of-the-art custom golf products and to building customer loyalty through customer service as exceptional as their products.
Warrior has brought together an impressive team of highly-regarded product development and golf manufacturing professionals, including seasoned master club builders, many with over twenty years experience. They know that when golf clubs are built to a golfer's exact specifications, they deliver the strongest and most consistent play possible. That's why they custom build all Warrior clubs at their 30,000 sq. ft. manufacturing facility, where they employ over 200 individuals year-round.
Terms & Conditions
A fee of $16.45 for the Wedge, $23.50 for the Hybrid or $36.40 for both clubs will be applied to each order to cover custom fitting, order processing and shipping & handling costs. Recipient must be 18 years of age or older. Free offers are limited to shipments within the United States and Canada. One free golf club per golfer while supplies last. This offer is not intended for use in conjunction with any third party offer. If used in any such manner, Warrior Custom Golf is not responsible for any such third party offer or promise. Not valid with any other Warrior Custom Golf promotion. Products are intended for personal use of the redeeming golfer and for no other purpose.